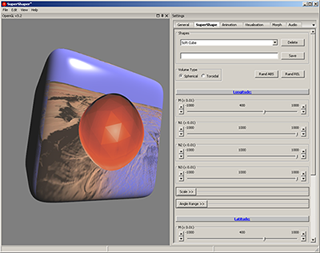 The SuperShaper
To demonstrate GPGPU and to show that it can be used for many purposes including simply having some fun, we developed the "SuperShaper".
A tool that uses OpenCL to create high-detail 3D models using a Trigonometric Formula.
Download

The SuperShaper is still in development. An development snapshot can be downloaded here.
The SuperShaper now supports any OpenCL 1.0 device (CPU/GPU). Tested on: Intel (CPU), AMD (CPU & GPU) and NVidia (GPU).
The OpenCL and OpenGL on one device situation is still the fastest due to buffer sharing.
WebGL experiment
A simple version is now available online using WebGL. At least Firefox 4, Chroome 9 or Safari 5.1 is required. MS Internet Explorer does not support WebGL.
Main features: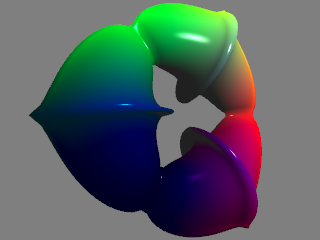 Very fast

Create endless amounts of different 3D shapes
Generate random shapes

Store your favourite shapes for later

Toroidal or Spherical volumetric transformation

Spiral modulation

Shader based rendering with reflection and multiple per pixel lighting parameters

Semi portable application (no installation required)

High detail, up to a 400000 vertices

Morph between shapes
Support for any OpenCL capable device

Requirements
A modern (primary) Video Card supporting OpenGL3.2 or better
Windows XP/Vista/7 (x86/x64)

NVidia GeForce 8800 or better.

AMD Radeon HD 5xxx or better. (Get the driver package with OpenCL support!)
OpenCL 1.0 support on any CPU or GPU in the system
Future improvements
Support for Apple OSX, Linux and mobile platforms

More visualisation options
Expose more trigonometric formula parameters
GUI improvements

Improve parameter animation and morphing control

Feedback
If you have suggestions or feedback, please sent it to Development@OrganicVectory.com
License
Creative Commons Attribution-NonCommercial-ShareAlike 3.0

Disclaimer
ORGANIC VECTORY (OV) DISCLAIMS ALL WARRANTIES, EXPRESS AND IMPLIED, INCLUDING ANY IMPLIED WARRANTIES OF MERCHANTABILITY OR FITNESS FOR A PARTICULAR PURPOSE AND ANY IMPLIED WARRANTIES ARISING FROM A COURSE OF PERFORMANCE, A COURSE OF DEALING, OR TRADE USAGE. OV WILL NOT HAVE ANY OBLIGATION OR BE LIABLE FOR ANY ERROR, OMISSION, DEFECT, DEFICIENCY, OR NONCONFORMITY IN ANY SOFTWARE, UPGRADE OR UPDATE. OV DOES NOT WARRANT THAT THE OPERATION OF THE SOFTWARE, UPGRADES OR UPDATES PROVIDED BY OV WILL BE UNINTERRUPTED OR ERROR FREE; THAT ALL MALFUNCTIONS, DEFICIENCIES, OR ERRORS WILL BE CORRECTED; OR THAT SOFTWARE, UPGRADES OR UPDATES WILL MEET YOUR SPECIFIC REQUIREMENTS.
OV WILL NOT BE LIABLE FOR ANY INCIDENTAL, CONSEQUENTIAL, OR SPECIAL DAMAGES OF ANY KIND OR FOR ANY DAMAGES RESULTING FROM LOSS OF USE, DATA, OR PROFITS ARISING OUT OF OR IN CONNECTION WITH THIS AGREEMENT, WHETHER IN AN ACTION OF CONTRACT, TORT, OR OTHERWISE, EVEN IF OV HAS BEEN ADVISED OF THE POSSIBILITY OF SUCH DAMAGES.